10 tags
Watch
Erik Vestman and Nils Petter Löfstedt  build a secret home in Malmö, Sweden. Thanks Luna Park for sharing this one.
3 tags
Derek Diedricksen's Tiny Houses in NYTimes →
7 tags
Watch
Dan Phillips gives a great talk over at TED about houses, Apollonian vs. Dionysian mentality, and even recreational bathtubs. Enjoy!
3 tags
5 tags
At this point all we can say is...
We survived the snowstorm.
5 tags
4 tags
5 tags
5 tags
5 tags
Tiny houses with Kevin Cyr! →
We always loved Kevin Cyr for his amazing portraits of vans but somehow overlooked his incredible small rv project. It's top notch and the paintings that go with it are great too!
7 tags
kapr asked: how did you come to acquire the cabin initially?
5 tags
5 tags
3 tags
4 tags
Pumpkin Carving Sunday
What else says autumn like pumpkins. Ok, well maybe falling leaves and flannel but not much else. So come one, come (sm)all to the BCBK's first pumpkin carving. All you need is a pumpkin and a knife. We'll even post the pumpkins and let you vote for your favorite. Winner gets a complimentary overnight stay in the cabin!
9 tags
3 tags
9 tags
4 tags
3 tags
Sniff Sniff
There's a mysterious smell in the cabin. I came back tonight and my familiar smell of dry wood was replaced with an odd mix of puke, fish fertilizer, and old chocolate that had melted. Go olfactory! I looked all over, even under the floor boards and up on the tin roof, but came up empty handed. If you know what the smell is please let me know. Better yet, can you make it go away! Yo smalls,...
5 tags
5 tags
How's your home? Arcade Fire cover the...
8 tags
Watch
Adams and Itso's part from the Inside Outside film has been a favorite for some time now. And I'm happy to come across it today and be able to share it with you. A lot of the incentive of living outside of the norms of urban convention is wrapped up in this video. Even more so, their ideology of using what you find is key! For me, I think there work in the graffiti realm is the most...
6 tags
I heart Adams & Itso →
6 tags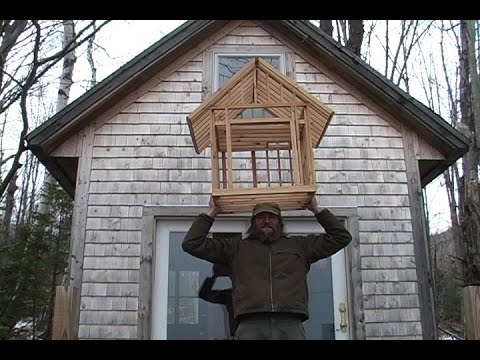 2 tags
BCBK on homewrk site →
My cabin was featured on homewrk today. Check out their collection of various artist work spaces.
Here's an oldie but a classic by Modest...
7 tags
1 tag
4 tags
"To a man with a hammer everything looks like a nail."
– Mark Twain
3 tags
9 tags
"The man who works recognizes his own product in the World that has actually been..."
– Alexandre Kojève, Introduction to the Reading of Hegel: Lectures on the Phenomenology of Spirit